BOUTIQUE HOTEL AND APARTMENTS
Style: Boutique, Art Deco Hotel
Service: Very relaxed and extremely welcoming. The staff were young and friendly, they definitely met the edgy vibe of the hotel. They couldn't have been more accommodating when it came to restaurant, bar and club recommendations for our stay.
Facilities: Each room has a fully stocked mini-bar, robes, hairdryers and full smeg fitted kitchenette. The hotel itself has a lively bar and restaurant and sunset DJ.Use of outdoor pool with towels and day beds included.
Wi-Fi: Free super-speed wifi
Website: www.wikiwoohotelibiza.com
Location: San Antonio, Ibiza, Spain
Price: Prices range varying on which room you are in, there is a 2-night min stay policy. The Standard Room starts from €180 (for two nights) and up to €320 for the Deluxe Sea View (for two nights). There is also the Elyx Suite which has a minimum 4-night stay and can sleep up to four guests, prices start from €1900 (for four nights).
Rooms: There are 6 different room options at WiKi Woo. The Standard, Pool View, Chalet, Sea Side View, Deluxe Sea View and the Elyx Suite.
Entry and Bar area
Pool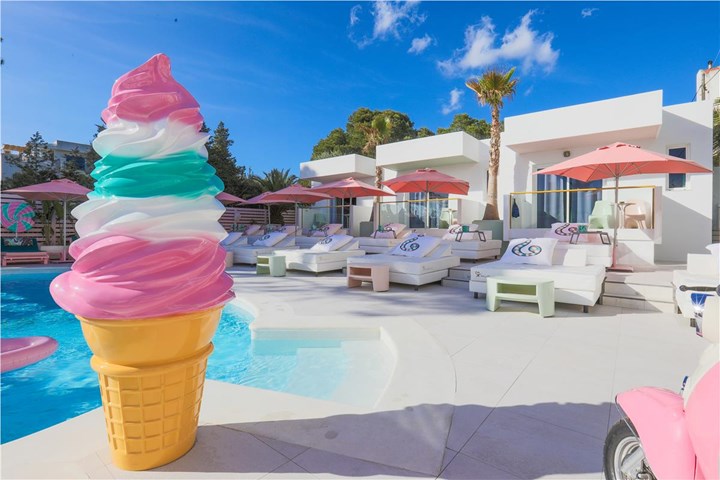 Restaurant and Dining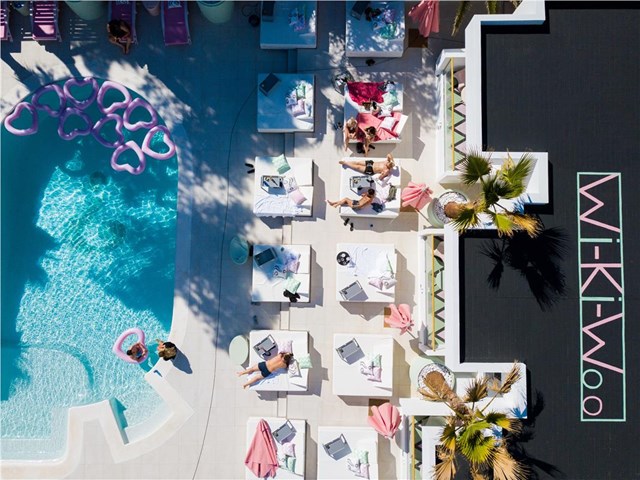 Bedroom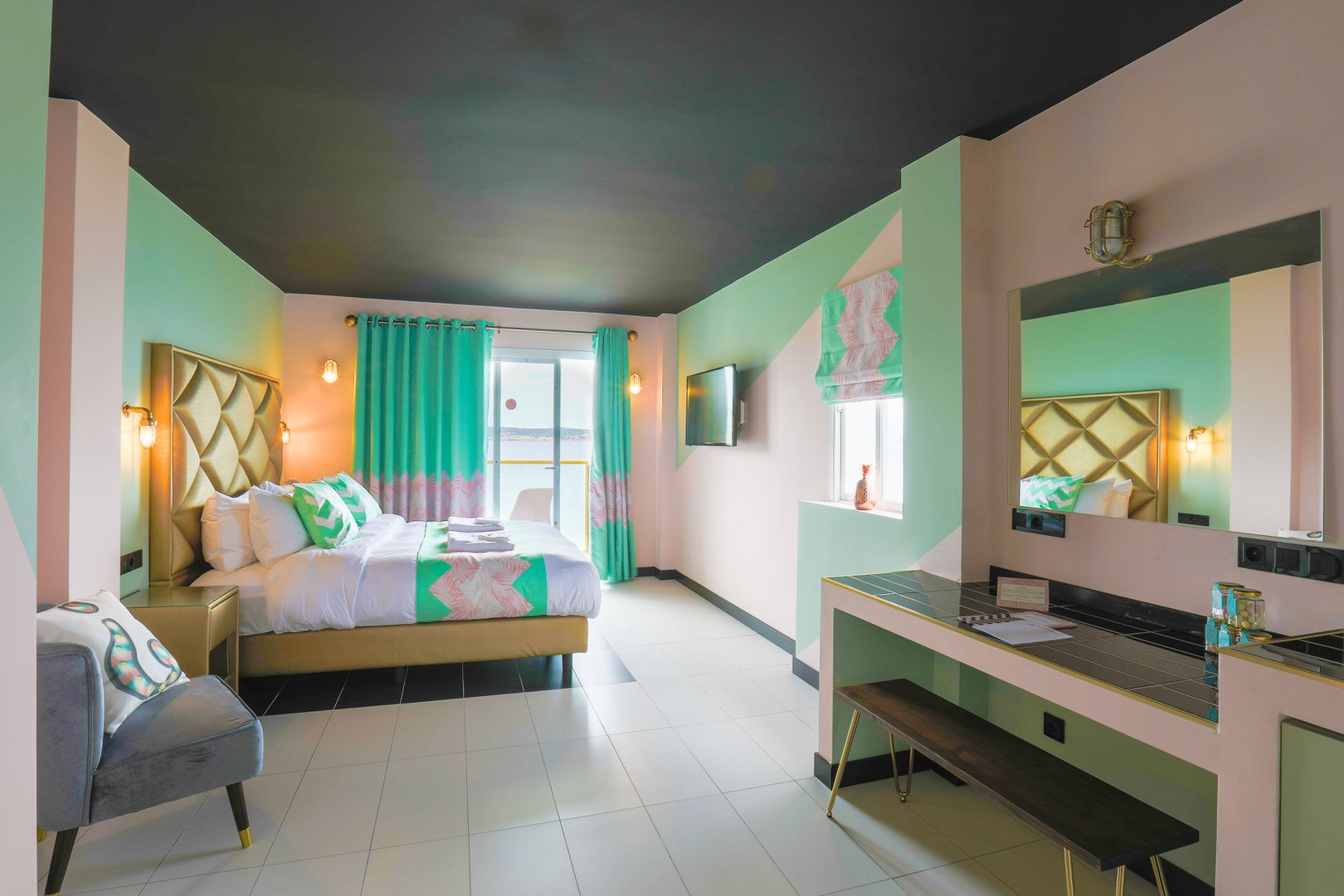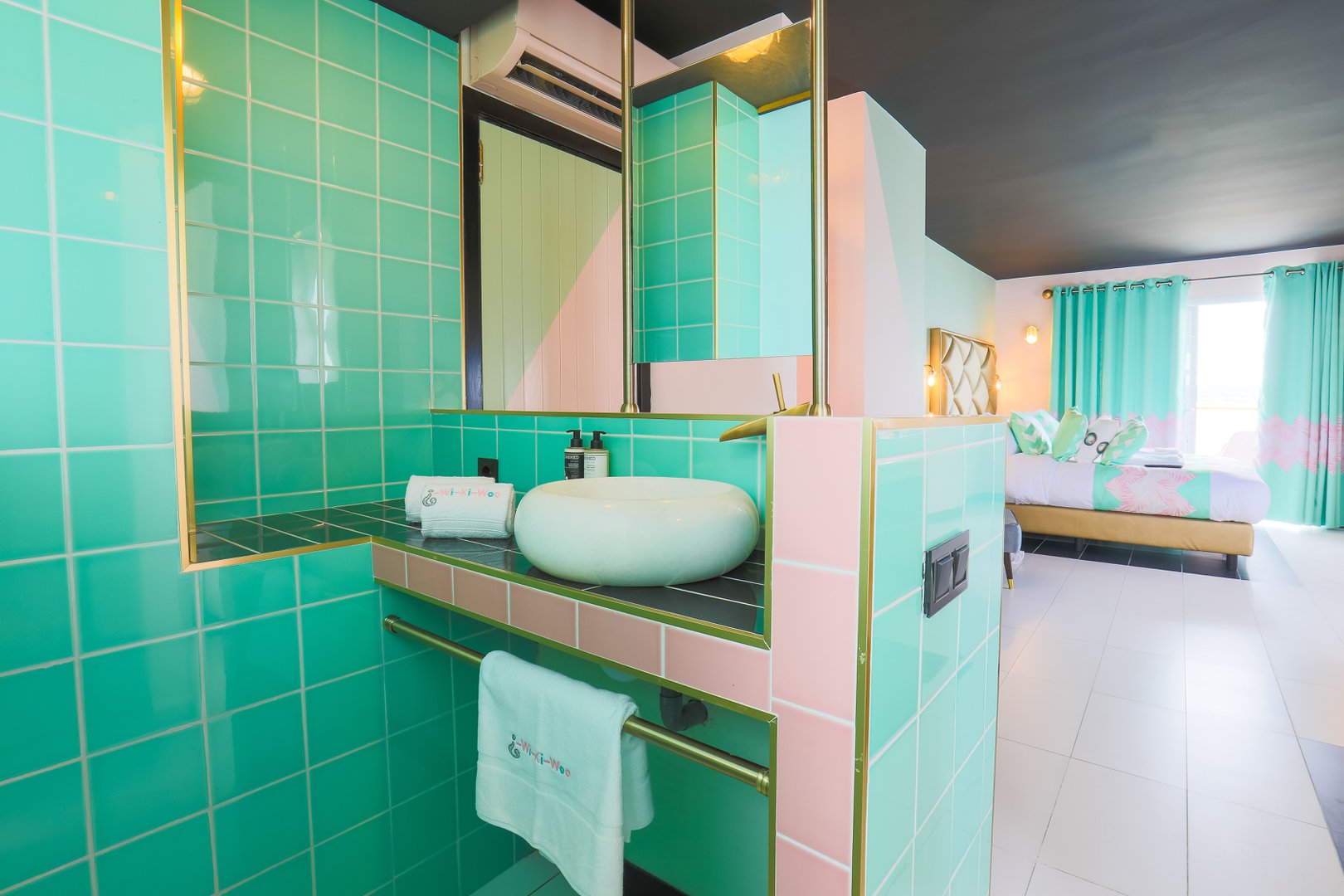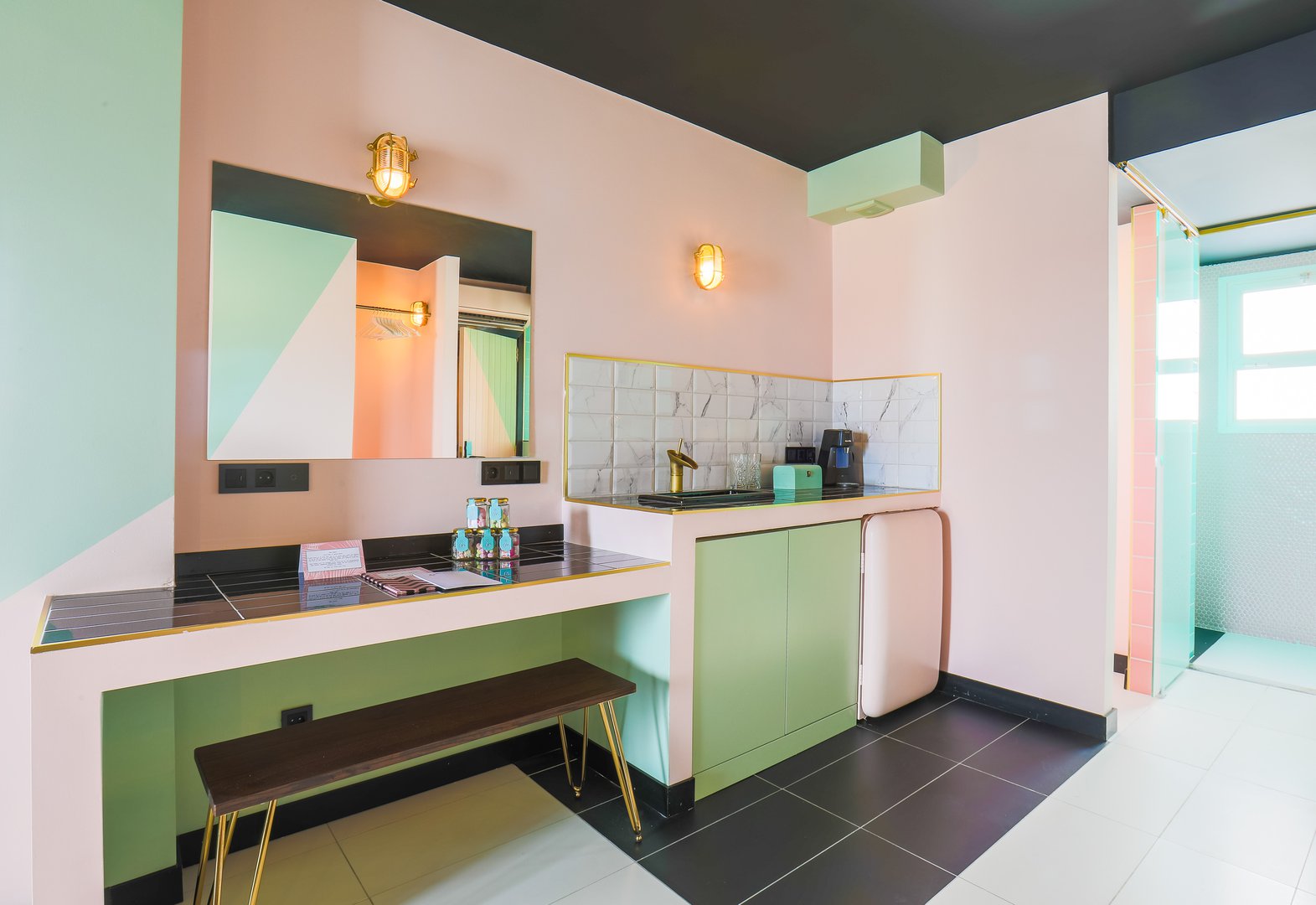 SUMMARY OF Wi KI WOO
Wi-Ki-Woo could easily be described as unique and the coolest hotel on the island. It is situated directly on the coast of San Antonio overlooking the ocean, It's pastel pink/green art-deco interior and decor make it visually appealing and any Instagram queens dream location. The quirky tiles, floral decor as well as giant jars of free marshmallows were some of our favourite individual touches to the hotel making it a sensory experience to stay at. As we arrived at check-in there was relaxing music playing with a scenic backdrop of the sunset with a view of the bar and outdoor restaurant from the reception. The DJ and busy bar created a lively and welcoming atmosphere. We were warmly welcomed by the glamorous and edgy front of house staff with a colourful cocktail. The check-in was smooth and efficient and we were notified of where we could enjoy breakfast in the restaurant each morning and asked if we needed any assistance for restaurant or guest list reservations for our stay on the island. 
We were staying in a 'Pool View Room'. The rooms and interior of the hotel follow the pastel retro vibe of the exterior with the rooms being pink and aqua-themed. The room boasts a king-sized bed as well as a fully equipped kitchenette complete with a smeg mini-fridge. The contemporary open-plan bathroom has a rain shower with hairdryer and luxury toiletries from Ibiza. The room also has a private balcony and a desk.
The Restaurant boasts a breakfast and all-day menu, For breakfast each day we enjoyed healthy poached eggs and avocado on toast with almond milk coffees. We were sitting in a pink decorated booth and (of course) had to take a pic on one of the bright pink motorbikes. Cocktails on the seafront terrace are also a must! Thursday-Sunday there is also the Elyx club open at Wi-Ki-Woo, a cocktail bar dripping in velvet, copper and marble. Perfect for if you want a few extra cocktails without having to leave the hotel!
The pool area continues with the art deco vibes and is filled with large heart-shaped day beds, giant ice cream cone sculptures, a pink lifeguard stand as well as the pool being filled with pastel pink love heart blow-up toys. Honestly, when I said it was an Instagram queens dream I wasn't lying! Although the beach is situated right out the front of the hotel we decided to enjoy the poolside area ordering Asian dishes of satay chicken skewers and sushi by the pool along with a bottle of rosé. 
Wi Ki Woo is located in a quieter area of San Antonio bay which means it is quiet during the night time and you aren't disturbed by the crazy nightlife. Anywhere you need to go is easily accessible by taxi that the staff at reception are more than happy to organise for you. This hotel was so not just a hotel but more an experience, I could not recommend it enough and cannot wait to go back.