LUXURY RESORT AND SPA
Style: Barefoot Luxury
Service: Extremely welcoming, staff willing to go above and beyond to ensure the guests are enjoying their stay.
Facilities: The resort includes two pools, Osprey Spa, Azure bar and Grill, beach Lounge, fitness centre, morning yoga, walking trails, horse ranch and outdoor games. There is also a kids playground and tennis court.
Wi-Fi: Free super-speed Wi-Fi
Website: https://elementsofbyron.com.au/
Location: Byron Bay, NSW, Australia
Price: Prices range varying on which villa you are in, starting from $475 for the Botanica Villa- up to $895 per night for the deluxe 2 Bedroom Villa.
Rooms: The resort offers several categories of Villas. Available room options are; Botanica Villa, Lagoon Edge Villa, Dunal Villa, Luxury Villa, Standard 2 Bedroom Villa, Superior 2 Bedroom Villa, Deluxe 2 Bedroom Villa and a Studio- Wheelchair Accessible Villa. All Villas include a King-Sized bed, a freestanding bathtub, a hairdryer, A/C, minibar, high-speed internet, in-room movies, iron, Nespresso coffee machine and seating area. The 2 bedroom villas also include a kitchenette and a personal refrigerator.
Lobby
Family Pool
Botanica
Adult Pool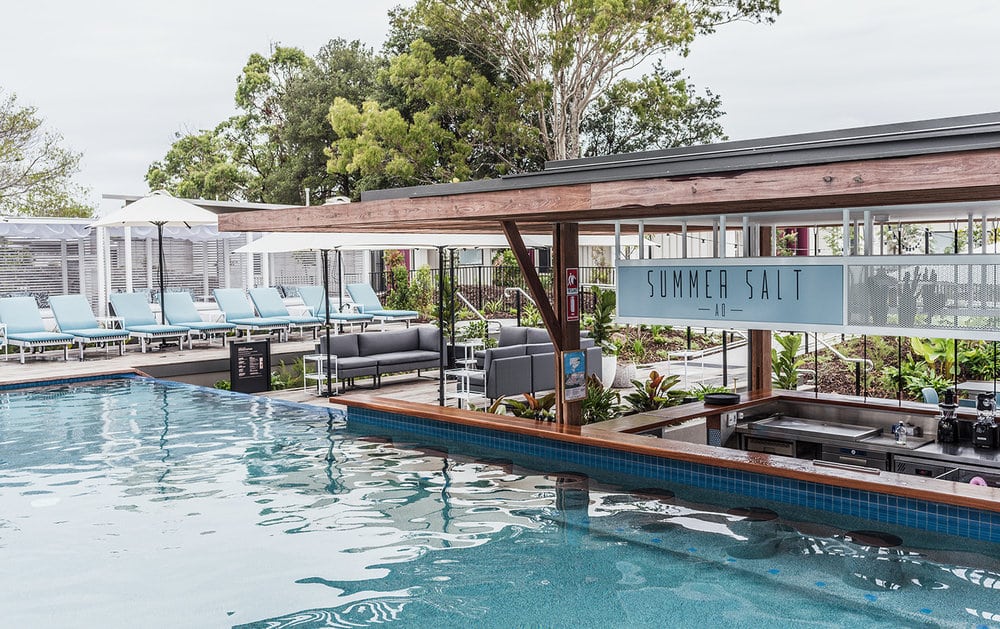 Azure bar & grill
The Osprey Spa
Kids Playground
Dunal Villa
Summary of Elements Of Byron
We arrived at Elements and were greeted by the lovely staff members in the reception area which is adjacent with the Azure Bar & Grill looking out onto the stunning pool area. Check in was at 2pm, however we arrived at 1pm and our villa was ready so we were able to go to our room. As the resort is a whopping 22 hectares the team drive you to your Villa with your luggage in a golf buggy. This allows you to take in all the stunning scenery of the resort including a lake and many native plants and wildlife. Elements has 103 Villas dotted across the massive Resort just North of Byron Bay. There are several different locations of Villas, some are near the beach, the lake or scattered around the resort.
We were staying in a Dunal Villa. Upon entering our Villa (which is only steps away from the beach) there is an indoor living area, complete with a gas fireplace, comfy couch and a wall mounted TV which includes unlimited free movies. Conjoined is the bedroom area which features a huge King-sized bed (which is honestly one of the comfiest beds we have ever slept in!). The room also features high ceilings which makes the Villa feel spacious and a desk with a Ipad linked to Elements and its amenities such as room service. The mini bar showcases some of Byron Bays finest craft beer, wine and treats. Adjacent to the bedroom is the brightly lit ensuite with a huge backlit bathroom mirror, wardrobe, toilet, and a rainfall showerhead. Included in the bathroom is designer toiletries, complimentary bathrobes and slippers. The freestanding bathtub is featured in its own tranquil room.
Elements of Byron has two pools, the Central Lagoon Pool which is perfect for families-which features private cabanas, hanging day beds and a heated spa with full poolside service. The Adults Exclusive Pool also includes private cabanas, pool side lounges and a swim up bar. Full pool-side service is included with signature cocktails and Mexican fingerfood. Elements also has a beach lounge with daybeds which is located on Belongil Beach. Make sure you try one of the cocktails at the Botanica Beach Bar!
The Resort has 20 acres of native rainforest and wetlands along 2 kms of walking trails. Ask reception about the complimentary walking tours with one of the resorts rangers! There is also morning yoga for guests overlooking the beach. ElementsAIR have 3 different options of helicopter trips if you want to see Byron from above! Not often a resort has its own helicopter service.
The Osprey Spa is open 7 days a week for the ultimate tranquil spa experience. Treatments offered include full body experiences, facials, massages (Hot stone, aromatherapy, muscular, full body, healing and mineral), manicures and pedicures, and pregnancy treatments. Enjoy some relaxation time alone or there is a double treatment suite if you want to bring a friend or partner.